Armchair Treasure Hunt 2004
| | |
| --- | --- |
| Title: | ATH for Dummies |
| Setter: | Paul & Rosalind Barden |
| Themes: | Playing Cards |
Hunters' Tales
(Cafe des Starbucks 17 January 2005)

Just now the huntsmen are in gloom
A deadline calls us to our doom.
The code mysterious lies beneath
Page nine, unsolved and deep as death.

The Anagram! We solved it and we know
The exact spot were we need to go.
Where in the dawnlit waters cool
His ghostly Lordship swims his pool.
We've counted cards, played all the tricks
And prodded roots of trees with sticks.
We got in touch with nature there alright
Muddy, wet, in fading light.
Things we did you'd not believe
In bosky woods on Christmas Eve.

At Grantchester! At Grantchester!
There is no bloody treasure there.
Our clever modern men have seen
What all the cunning questions mean,
And noted with a studious eye
The pictures and the cards nearby.
To play them, we just made a guess
So why did we buy Deepfinesse?
But there are things we do not know
Like where those bottom cards must go.

$@*?! we've not a notion,
And so the treasure's still verboten.
Say, does the code split red from black?
Or must we shuffle the whole pack?
Does Doesberg ever find his van?
And just who is that page three man?

Say, is there something left to find?
Like answers of the easy kind?
Stands the date still in Janu'ar'ee?
And will we some money ever see?

Six Spades Not Needed
"We couldn't work out why the zoo would be ringed (other than to prevent the escape of the animals)"
Alcoholus Lubricatum
"Alan knows a good card trick. If this will earn us some more points, please get in touch."
A Bridge Too Far
"Football team: The colours are those of Norwich City , but the players don't look sufficiently fit."
Skelcher's Schemers
"You asked for it: what beat the cipher? Not us."
No Spades in my Hand
"The mosquito at the top of the page might be referring to a bug in the code which you have to fix..."
No Spades in my Hand
"Went to Byron's Pool and spent a while strolling around. It is a small woodland with a circular path and not that big. However the treasure was not forthcoming despite a few close calls with carefully wrapped and secreted copies of adult literature. My excitement at finding a cunningly hidden package turned to dismay as a copy of UK Swingers, or some such, appeared from inside a plethora of carrier bags. It occurred to me that this was the treasure, but experience, if not common sense, suggests otherwise!"
No Spades in my Hand
"Whose tips for success included keeping Beethoven and frogs away from his underwear? Pablo Coombs. This is his lucky technique for ATH treasure finding."
Chaste Lord Archer Vegetating
"The picture of the church clock, 40 minutes later, suggests the honey has probably all been consumed."
The Famous Five
"Yugofone: indicates this page gives directions where "you go" to find the treasure."
Team Noorwegen
"We were delighted to fail to find a reference to Mr and Mrs Archer, although Mr Hunter did suggest you could have chosen the M25 Nebula from Saggittarius..."
Team Trumped
"Jeffrey Archer now owns the Old Vicarage and also wrote 'Twelve Red Herrings' which we took as a welcome hint not to investigate him any further."
10 to 3
Treasure Finding Tales
By Christmas there was no denying that Brooke's poem was a strong contender, and with it mentioning several villages that we had located clues in, it was high time for a visit. So on Boxing Day morning the first search party set off.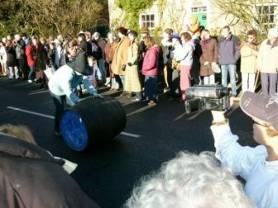 When we arrived in Grantchester the whole village was out and about for its annual barrel rolling fun and games. We had to fight our way through the crowds to get on with the important work we were here to do. Everyone around was very jovial and we were particularly delighted to talk to the vicar at the church who was able to identify to us that the sketch picture on Page 1 was of the Old Vicarage.
We were now certainly on the right scent, although the half hour spent in the church grave yard did prove to be fruitless. Retiring to The Rupert Brooke for a pint and a look at the map saw us meet up with the presentations from the barrel rolling.
There was no time to celebrate, we needed to get to the pool. And here the next key find was the signpost. We spent some time confirming to ourselves that all of the rust-marks matched up to the picture and then tried to work out what angle it was taken from to include the red house in the background. But clearly we were on the right track. And that is what we did not find?..the track on the right hand side.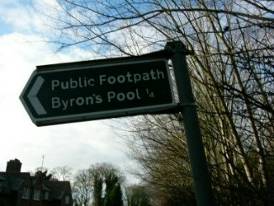 We had a good look around the wooded area around the pool, in particular under the two bridges and as many tree roots as we could - what we thought were all the obvious ones.
As we were blindly looking we moved onwards to take in as many of the villages as mentioned in the poem, to see if we could match up some of our remaining picture clues. Trumpington identified the war memorial there, but it was Madingley that we spent a lot of time scratching our heads over. Chris remained determined that the Shuffleboard court must be located in one of these, until we found it in Florida.
The Three Horseshoes pub had been identified from day 1, but there was no real link. So as we needed to stretch our legs we plotted a walk out and around Madingley with the hope of uncovering something. Nothing, only that there was an error in the OS map (Chris stands by that as the navigator). Our final trip of the day was to the American cemetery just outside. This had a C6 18 referring to a gravestone, and we somewhat worried the guard when we said we were on a treasure hunt. He had visions of hundreds of people coming down and attempting to dig up the graveyard. His mind was put at ease, and in the darkness he escorted Kelly around to the grave. Learning nothing that appear to be a clue it was time to head home for some turkey sandwiches.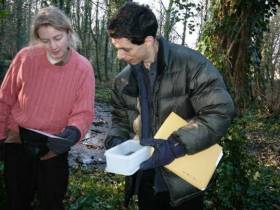 The site(s) were revisited again later that week, but with no new results. Although meeting up with a fellow team again firstly at Byron's Pool and then at Grantchester church confirmed that we were correct - and that they had no more definite information than we had (but as previous ATH winners we gauged that we may be working at the right pace). But we were going to need to get our skates on if we were to be first to the treasure. A further visit to The Three Horseshoes found a team poured over a bridge hand in the car park. But still no reason for its inclusion.
Subsequent to this several more visits were made to Byron's Pool for 'a casual walk around' but none were ever productive. We had other site trips to the churchyard in Harrow where Allegra Byron was buried to investigate Typhoidal Doom.
By this time it was clear we needed to still crack the main ciphers, as well as a few other remaining puzzles. Plus there was still no link to Jeffrey Archer anywhere, anything without and answer so far was a candidate, but to no avail.
To assist in our thinking several members of the team by this stage had left England . Sami had already spent the first few weeks in Lebanon , Chris had gone off to Thailand , Jon and Juliette were soon off to the Dolomites. This of course did not stop the progress and it could be said that we even returned to the true nature of the ATH. Cracking ciphers by hand and working through the puzzles with a pen and paper, both in the cold and wet UK and on the beaches of Asia.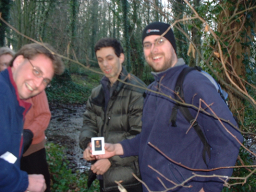 Soon into the New Year it was becoming clear that page 9 was full of directions, and hints on how to solve them. By the penultimate weekend it was clear that the cards at the bottom of the page remained unsolved and the clues at the top hinted that a riffle shuffle was required. The only information we were missing was the final steps to pinpoint the treasure. It would take us a week to crack this code.
It was late on the final Saturday night, when a flurry of phone calls identified that over dinner the cipher had been solved. Vague plans for further aimless walks around the wood were out the window and firm times now agreed.
The initial plan was to get there at first light as the team had now gathered a considerable Cambridge contingent at this stage. It was our belief that we would be around 3rd or 4th to the treasure, and wanted to stake our claim quickly. But to allow Chris and Dave to get up from London a more leisurely 10am was agreed.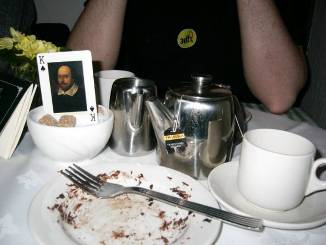 By 10:15 the dog leg in the fence yielded a path that seemed new to us. The pattern of the trees seemed to indicate that most could be grouped into a triangle shape until quietly Laura was on the floor and pulling out the blue bag. We all suddenly noticed the large triangle ? not sure how we missed it before.
Upon opening it we were more than surprised. A quick check identified that there were still 52 cards in the deck. Could we really be the first? What's more we were quietly relieved that we had one more step to take. We'd played the bridge hand, and felt it had to be used for something else.
To have to choose the card based on this and then find that it depicted a painting of William Shakespeare tied up our final question marks.
Apart from a couple who were walking the dog when we arrived, we had the whole wood to ourselves (lucky really, as 6 of us did look rather suspicious). This did allow us to celebrate rather vocally and it was some time before we buried the treasure again.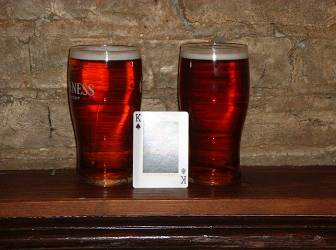 But what to do now, it was shortly before 11, hopefully The Rupert Brooke would be open for a celebratory beer. Unfortunately not on a Sunday, so we retired to the Orchard of the Grantchester group for a celebratory cup of tea and cake.
Bill, as his presence was now known to us, joined us in the celebration - and ultimately for a pint or two later.
So all in all we had a fantastic ATH. We brought in new faces to the team who soon found their lives are put on hold for a few weeks, and we all thoroughly enjoyed it. Accepting we need to use return to our normal lives is always hard to do.
And if you can get to Grantchester by midday next Boxing day we much recommend it for the atmosphere of English village life today (but be careful where you park your car !). Meantime we will be off in some other location, if not to sample the beer hopefully to find the treasure.
Alcoholus Lubricatum