Treasure Hunt Related Books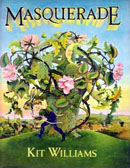 Masquerade
Author: Kit Williams
Published: Jonathan Cape -

September 1979

.
Details: Hardcover. 32pp.
ISBN: 0224016172.
Summary: The original Armchair Treasure Hunt, published in 1979, which captivated and entranced worldwide millions before the treasure was found in somewhat controversial circumstances in 1982. Beautiful artwork, cryptic rhymes, not a question in sight. And all before the internet or Google was invented.
Reviews: Wikipedia; Amrich Tribute; BBC h2g2.
Buy Online: Amazon.co.uk; AbeBooks.co.uk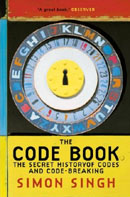 The Code Book: The Secret History of Codes and Code-breaking
Author: Simon Singh
Published: Fourth Estate - New Ed edition

June 2000

.
Details: Hardcover & Paperback. 416pp.
ISBN: 1857028899.
Summary: A compelling read on the use and development of codes through the ages, as the encrypters try to stay one step ahead of the decrypters. Many facinating historical accounts of their use, right up to quantum cryptology. There are good and readable technical explanations of all your favourite ATH codes.
Buy Online: Amazon.co.uk; AbeBooks.co.uk.