Armchair Treasure Hunt 2020
| | |
| --- | --- |
| Title: | Apophenia Island |
| Setter: | Apopheniacs Anonymous |
| Themes: | Treasure Island, Poe & Defoe |
It all began late one foggy winter evening ...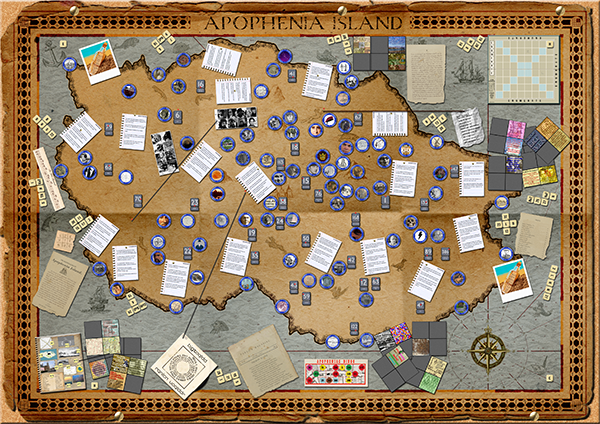 ... in an old sailors' dockside tavern where a shambling crew of Apopheniacs were downing one last tot for the road. At the neighbouring table, a rough old cove with a scar across his right cheek who had spent much of the evening cursing beneath his breath, drained his glass, got up and left.
As the last bell tolled, one of this crew noticed an old paper left where the man had sat. Tied up with knotted string, the parchment was sepia tinged and ragged around the edges. Buoyed by a good quantity of rum, the Apopheniacs decided to take the paper back to their lodgings and after cracking open another bottle in front of a roaring fire, one of their number cut open the string using the knife at his belt. The crew sat agog as the parchment was unfolded to reveal an old map clearly showing an island, with latitude and longitude, soundings, hills and bays and inlets, and every particular needed to bring a ship to a safe anchorage upon its shores.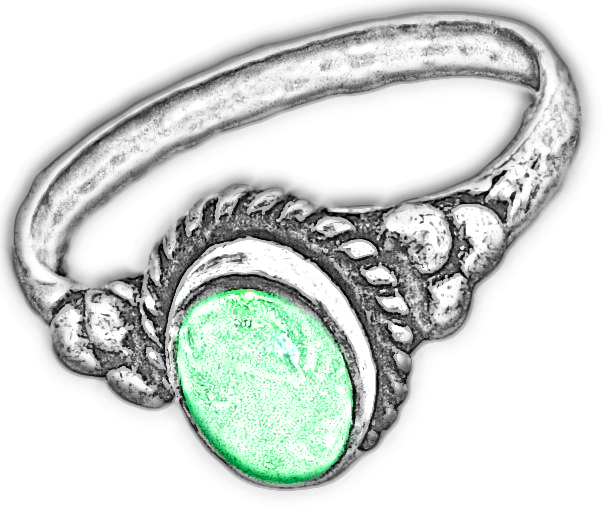 That was then. But nearly three years later and the Apopheniacs have alas failed to unlock the secret of the map. Their collective researches at the library identified only that it was almost certainly drawn up by the fearsome old sea pirate, Captain Horatio Trumpscrubbe. Myths and rumours have circulated down the centuries as to the whereabouts of Trumpscrubbe's vast riches, speculating whether his great pirate chest may have been buried on some faraway island or perhaps lost at sea in a wreck. It was even said that his hoard contained the Great Emerald of Apophenia, a priceless jewel set upon a ring and often worn by a towering old Queen, only to be looted by privateers from an English brigantine on the high seas. But now, centuries later, this map has been discovered that purports to contain clues to the exact location of Trumpscrubbe's treasure!
Having made little headway themselves, an act of desperation has led the Apopheniacs to seek help in solving the mysteries of this beautiful old map by inviting a select band of expert treasure hunters to help them in their quest. The reward on offer for the first to find the hidden treasure chest is the great emerald jewel contained within*. A trophy will also be on offer for the best and most complete solution to all the puzzles on the map. Any information pertaining to either should be sent to apopheniacsanonymous@gmail.com. Do also keep a regular eye on the Ship's Log below where you can see any further announcements, messages or changes of course necessitated by errors identified on the map. But hurry! The crew are due to sail again in the new year, and must at all costs locate Trumpscrubbe's treasure before midnight on Monday 18th January 2021.
Please refrain from publishing questions, answers, musings, suggestions or requests for info relating to #PablosATH2020 on public forums (including social media) as it spoils the hunt for other teams. Thank you.
You should be aware that these are dangerous times, with scurvy and plague rife, and you are warned to stay safe and not take undue risks. If you are unable to travel to the burial site itself, you can instead inform the Apopheniacs of all the details needed to precisely locate the treasure box by submitting a virtual find, and you will still be eligible for the reward. On the other hand, if you determine it is safe to travel in line with all local and national guidance in place at the time, please do check opening times before you depart.
Athwart, me hearties!!!
* Spoiler: the jewel in the treasure box is not actually a real gemstone and indeed has no financial value at all.
---
1 Feb 2020
00:01
The search for Captain Trumpscrubbe's lost treasure is now over and solution marking is well underway. You can read the solution document here.
26 Jan 2020
1:00pm
One week on from the revelation that Captain Trumpscrubbe's treasure was still unfound, a further update is available.
19 Jan 2020
1:00pm
Further information is available about the continuing search for Captain Trumpscrubbe's lost treasure.
15 Jan 2020
6:00pm
Please read this update from Apopheniacs Anonymous about the deadline for submitting your ATH solutions.
8 Jan 2021
6:00pm
Something else familiar has been found in another very precise location.
31 Dec 2020
6:00pm
Something familiar has just been found in a very precise location.
25 Dec 2020
6:00pm
Another scrap of paper has been found discarded outside the Apopheniac cave.
21 Dec 2020
8:30pm

ERRATUM #3

- On page 13, the number on #1 is a little hard to make out. It should read '18.565625 miles'. The Apophenia Island map has not been updated.
21 Dec 2020
2:50pm

ERRATUM #2

- On page 6, '23/NINE' should read '23/EIGHT'. The Apophenia Island map has not been updated.
21 Dec 2020
10:30am

ERRATUM #1

- On page 10, the double word 'TO TO' in question 14 is not intentional and should be read as 'TO'. The Apophenia Island map has not been updated.
19 Dec 2020
6:00pm
Should the ATH documents be inaccessible for any technical reasons over the hunting period, you will always be able to find backup copies here.
18 Dec 2020
6:00pm
PABLO'S ATH 2020 IS UNDERWAY.
11 Dec 2020
6:00pm
The ATH 2020 poster has been revealed.
04 Dec 2020
6:00pm
A scrap of paper has just been found discarded outside the Apopheniac cave ???